The Journey Home to Love, Sacred Bridging®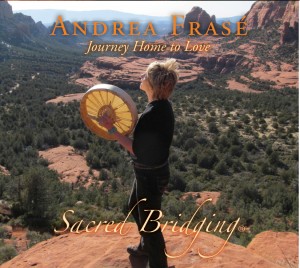 The foundation that unites us all to the Greater Consciousness of our multidimensional Identity is our emotions. The Spiritual Journey Home to Love is not completed through intellectual pursuits of the mind. It is accomplished through the miracle of our willingness to go to the core of our Heart, in order to feel and experience the Truth of Our True Self… Everything you need is within You. The path of the Heart guarantees our complete Oneness with Our Creator. Our Creator is calling Us all Home to Love…Home to Our Hearts. Are you ready?
We are all energy vibrating at different frequencies. The vibrations of sound can shift our lower frequencies to our higher frequencies, where we can access our Higher Self and transcend the belief systems that have caused us to separate from Our True Self. The Creator taught me the Sacred Bridging® Healing Process that bridges the 'gaps' between the dimensions of our physical and non physical worlds, through Sacred Voice and Sound Vibrations. My 'job' is to abandon my resistance and 'get out of the way' with my mental judgments and let The Creator deliver Its message of healing through me, via my voice(s), instruments of sound and drum rhythms, so that I become a Pure Channel/Vessel for the Creator to come through my Higher Self to Yours.
This CD can be listened to on your own or used in a group setting of Love and Support. Prepare your Self to listen by clearing your mind with some breath work (10 -15 min.) or meditation. When you feel open and relaxed, listen to the CD seated or lying down at full volume or with a headset to allow for full emersion of the Sacred Bridging® Healing Process. I invite you not to judge your experience as better or less than someone else's. Everyone will have his or her own unique experience each time.
* Some of you may wish to move or dance… Let your Heart be your guide…
*The drum that Andrea plays was made by her.
*Photographs were taken by Andrea and Sundona
This CD is dedicated to all my clients, with my deep gratitude for their Willingness to participate in the Sacred Bridging® Healing Process. You are Healing the World!
Testimonials
WOW!!! Beyond Amazing!!
Your CD is going to bless the world!!!!  J.E. 
EXCELLENT CD GIVES EXCELLENT EXPERIENCE!
Andrea is a gifted healer who has created an amazing healing tool for the world. I have gone to many live Sacred Bridging® sessions led by Andrea and I think that this CD truly captures the very essence of the great gifts that Andrea has to offer. I highly recommend this CD!!!!!!! Jody Ebling
 A jewel
This CD is amazing and transformative. I can't wait to hear it again so I can be transported and transformed again. Thank you, Andrea, for your dedication to making this world a better place for all of us. Esther Silverman
Simply Amazing
I have been working with Andrea for almost a year & the experience has been life-changing! It is wonderful to have her gift on CD & be able to listen to in my own home. I feel as though she is right with me. The sound, the beat & Andrea's voice is all beautiful & moving. 'My name is Love' stayed with me all day! I highly recommend Andrea, her work & her CD. M.S.