The book: "Divine Inspirations"      
"My Defining Moment", By Andrea Frasé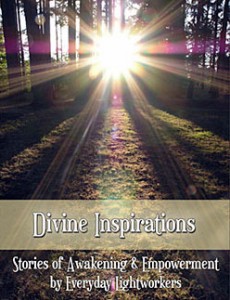 All of us on our Spiritual path have a moment when we make the choice to discover the answers to "Life's Biggest Questions" for out Self.  I call that moment "My Defining Moment"
I was asked to tell my story and become a contributing author to an eBook, called "Divine Inspirations." Copyright © 2010 by Angel Street Publishing, LLC
The chapter that I wrote and contributed to "Divine Inspirations" was entitled "My Defining Moment." It is the story of how my healing began and how I came to create my Sacred Bridging® Healing work.
This is a wonderful book that was written by Lightworkers who wanted to tell their stories about how they came to this work. The proceeds from the sale of "Divine Inspirations" eBook are being used to create a scholarship for Lightworkers. The scholarship can be used anywhere. 

You will not only enjoy the book, but your purchase will help sponsor a student to attend school!
You can download the eBook by clicking on the book .